Key Statistics
Human liver fluke infection caused by Opisthorchis vivirrini is a major public health problem in North and Northeast Thailand. No stronger link between a human malignancy and a parasitic infection occurs than that between cholangiocarcinoma (CCA) and infection by liver fluke, Opisthorchis vivirrini. In Thailand, CCA was observed in high percentage with patients living in Northeast Thailand where the prevalence of Ov infection is higher than elsewhere in the country.
Many correlation studies have shown that the incidence of CCA correlate strongly with the prevalence of Ov infection, as measured by anti-O. viverrini antibody titers in the general population or parasite eggs in the feces.
Cholangiocarcinoma is a rare tumor worldwide but is highly prevalent in Thailand and is generally accepted as the country with the highest incidence of CCA in the world. Liver fluke induces chronic inflammation leading to DNA damage of the infected biliary tissues and formation of cancer. Elimination of liver fluke and identification of high risk populations are critical in the effort to reduce the incedence of CCA in Thailand.
In Thailand, there is considerable geographical variation in CCA occurrences among different regions. The highest regional occurrence of CCA is in the Northeast, such as with Khon Kaen province, it has been identified as having the highest incidence of CCA in the world.
CCA is generally accepted as a fatal tumor with extremely poor prognosis, and liver and bile duct cancer ranks at the top five in the list of diseases in Thailand that have high mortality rates. High mortality rates are observed in the Northeast where CCA accounted for more than 70% of the primary liver cancer and the liver fluke is highly endemic. This area has also been known as the poor and poorest region of Thailand.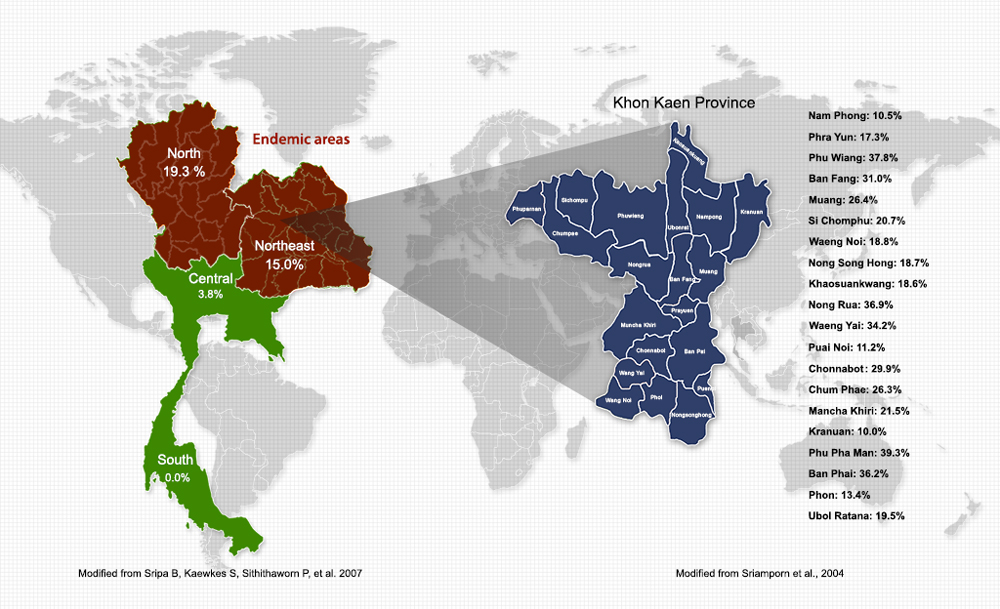 More recent numbers estimate the approximate number of deaths from CCA in both men and woman is 14,000/year (2012).CCA is also a lifelong disability and drastically affects a person's ability to perform common daily tasks. The disability caused by cancer is referred to as disability adjusted life years (DALYs). Cholangiocarcinoma also causes the highest number of DALYs among other cancers and was reported in 2004 as 280,000 DALYs for male and 124,000 DALYs for female.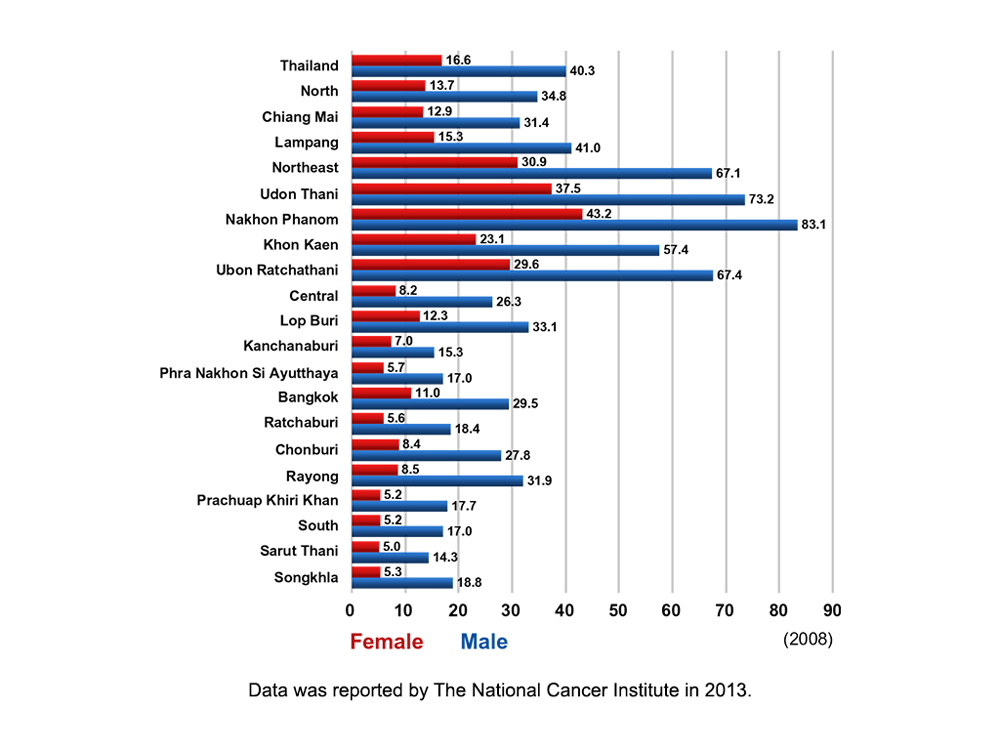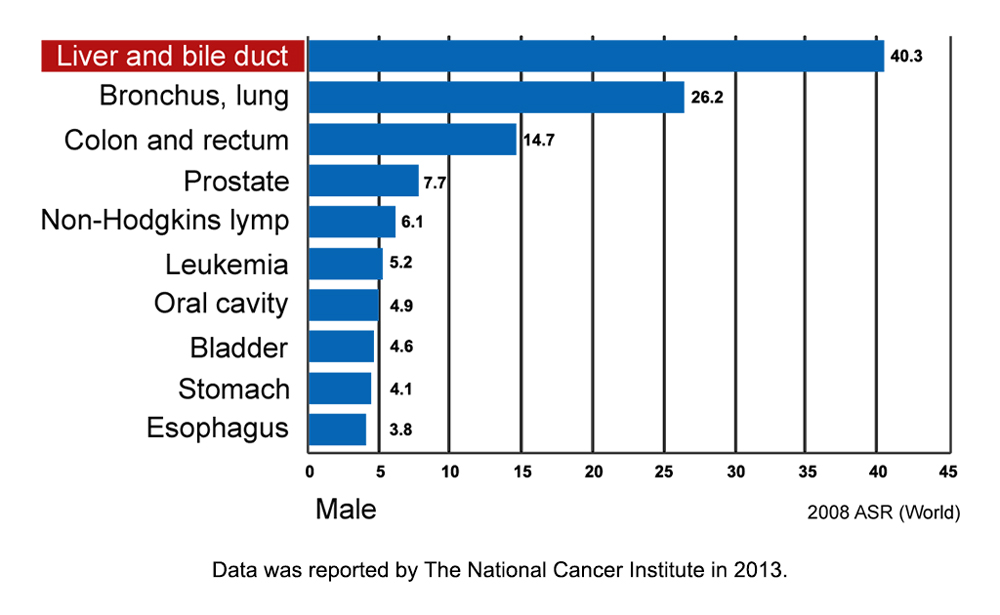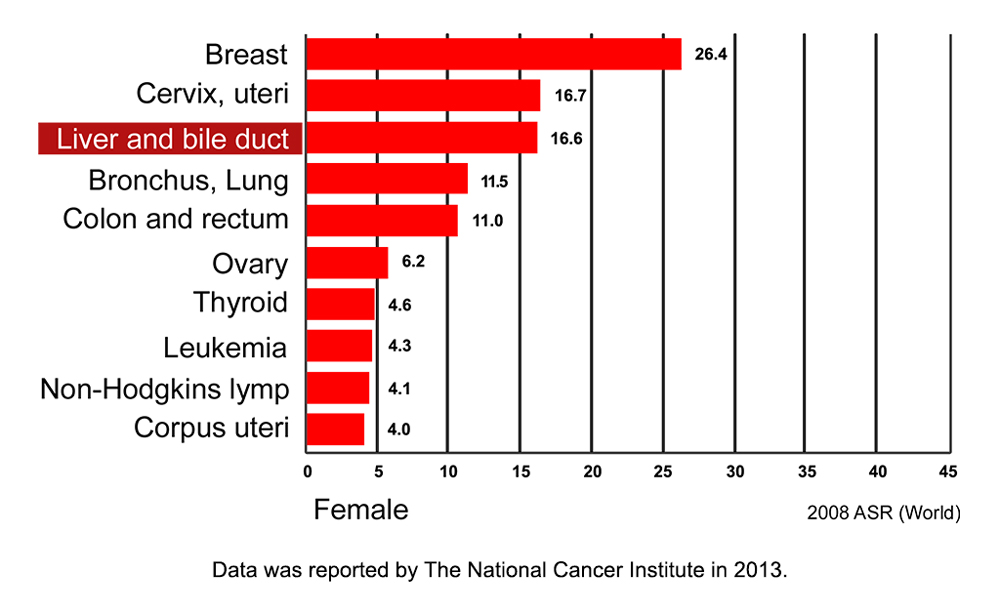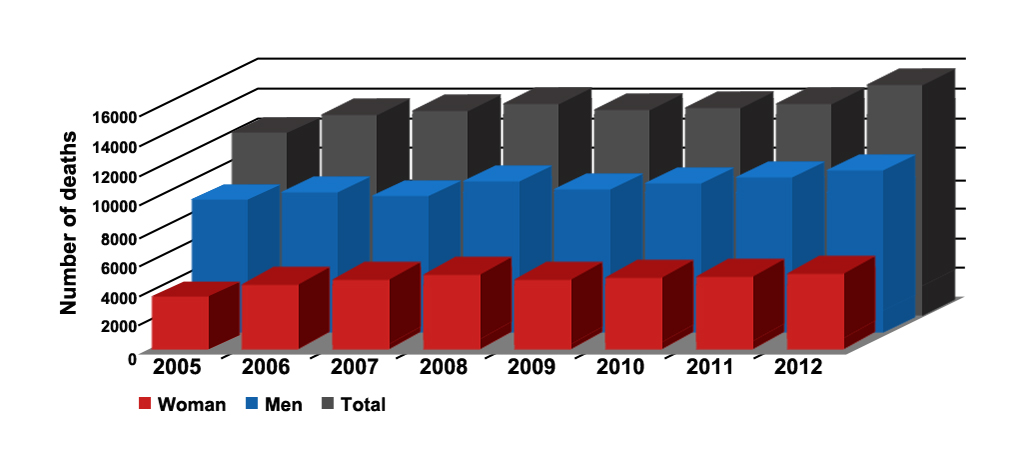 In summary, cholangiocarcinoma is a considerably devastating disease. In Thailand it is a significant public health concern ranking as the highest incidence of CCA in the world. Cholangiocarcinoma is a difficult cancer to diagnose which is often missed by attributing early symptoms to other diseases and later caught in an advanced stage of development. Such factors contribute to the high mortality rate of CCA. Statistics show the disease incidence to be higher in the North and Northeastern regions of Thailand affecting men more than woman, but it is also a disease that affects the nation as a whole. These statistics translate to real people suffering from a disease that needs the help of all of Thailand and the world to cure. The Cholangiocarcinoma Foundation of Thailand strives to reduce these statistics, eliminate liver fluke infection, reduce CCA, and save lives.