In Thailand, Cholangiocarcinoma (CCA) is identified as a major public health issue with especially high occurrences in the North and Northeastern regions of the country. In the Northeast, it is reported as having the highest incidence of CCA in the world with more than 14,000 new cases recorded each year. CCA also accounts for the highest number of cancer related mortalities in Thailand. Approximately 80% of patients die soon after diagnoses, most of whom are key supporters of their families. This means that not only the individual with CCA is affected, but his or her families are significantly impacted by the disease as well
Studies have demonstrated that the high incidence of CCA in the North and Northeast regions of Thailand are directly related to parasitic infections caused by Opisthorchis vivirrini (Ov., liver fluke). In these areas it is a common practice for people to consume raw or undercooked freshwater fish infected by the OV parasite. In the Northeastern province of Khon Kaen, the overall prevalence of OV infection is well over 90%.

Starting in 1950, there have been numerous programs carried out across Thailand to combat both liver fluke infections and CCA, however, they have not been successful in reducing the incidence of either. Currently the Ministry of Public Health has assembled all major cooperating organizations including government sectors and local public sectors to launch the campaign "The Strategy for Eliminating Liver Fluke and Reducing CCA". The Cholangiocarcinoma Foundation of Thailand was established on the 28th of September, 2012 with the aim of mobilizing the public sector directly in the fight to prevent and cure cholangiocarcinoma.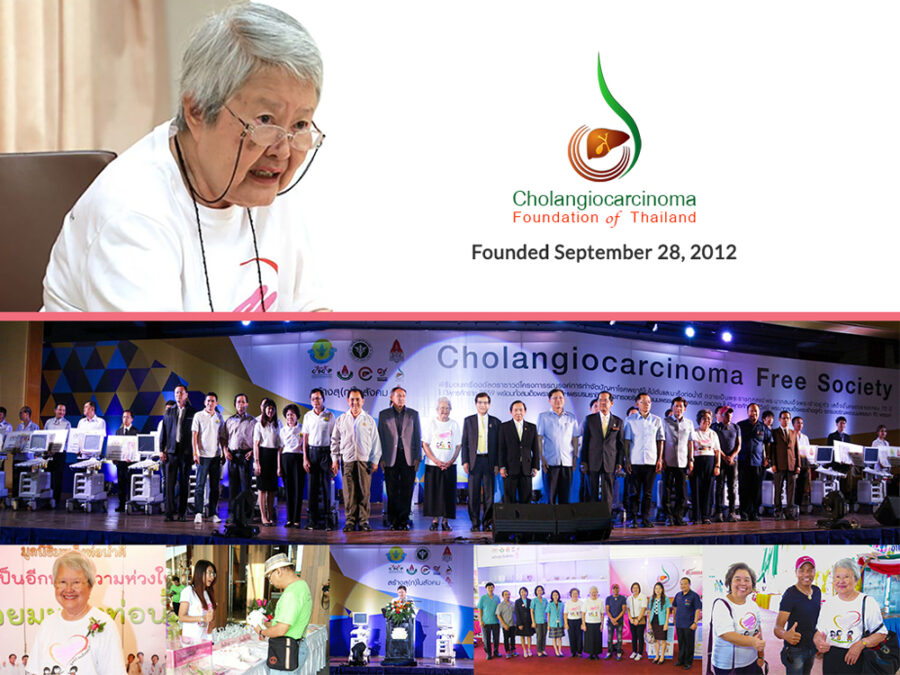 CCA foundation of Thailand is situated on Khon Kaen University (KKU) campus in Khon Kaen province, North-East of Thailand. Khon Kaen University (KKU) is centrally located with the Faculty of Medicine serving as the base for the Cholangiocarcinoma Screening and Care Program (CASCAP), CCA Center of Excellence which provides diagnostic and clinical services to CCA patients, and the Liver Fluke and Cholangiocarcinoma Research Center (LFCRC). These centers help to facilitate research through pre-clinical and clinical aspects and serve as speciality care centers for patients at risk of or suffering from CCA
Khon Kaen is the "capital city of CCA", having the highest incidence of CCA worldwide due to the high rate of Ov prevalence and infection. Located in Khon Kaen is Srinagarind Hospital; a principal institution for liver fluke and CCA research in Southeast Asia. Srinagarind Hospital is a super-tertiary hospital, training medical professionals in CCA diagnosis, treatment and prevention, with the cooperation of partners in, among others, the UK, Germany, Singapore, USA and Australia.